REDUXX – APRIL 11 2022 – Anna Slatz
A Florida lawyer is seeking information from past patients of a TikTok-infamous gender surgeon in her effort to file a formal complaint with the Florida Attorney General about her deceptive and unfair practices.
Kendra Parris of Parris Law in Orlando, Florida has told Reduxx she is seeking information on past patients of Dr. Sidhbh Gallagher after hearing reports of potentially unethical, improper behavior from the surgeon, including that she had been advertising cosmetic and 'gender affirming' surgeries directly to minors on social media.
Gallagher, a Miami-based plastic surgeon, rose to internet fame after making quirky TikToks aimed at minors, primarily girls, pursuing "gender affirming" procedures. She became most associated with her infamous catchphrase "yeeting the teets," a flippant, joking way to refer to performing cosmetic mastectomies, or breast removals, to her primarily underage female audience. Reduxx has previously revealed social media posts indicating that Dr. Gallagher had allegedly performed a mastectomy on 13-year-old girl.
Parris, whose focus is on mental health law, says she became aware of Gallagher shortly after noticing an "explosion" in gender dysphoria amongst her adult and minor clientele.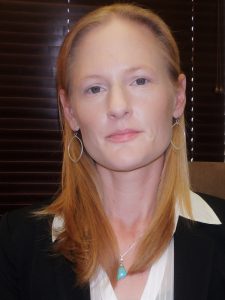 "Most of those clients had co-occurring [Autism Spectrum Disorder] or ADHD, so it was an interesting phenomenon that I filed away in the back of my head," Parris says, noting that she then became interested in Dr. Gallagher's work after seeing her on the reality TV show 'I Am Jazz.'
"When I reviewed [her] social media profiles, I was astounded and angry by the vulgar language and casual attitude toward major surgical interventions and mental health disorders. Because what she seemed to be doing was selling a new form of psychosurgery to kids on TikTok." Parris draws a parallel to lobotomies, saying that Gallagher is "performing the psychosurgery on the body rather than the brain," but says the intention is the same, to improve mental health outcomes.
"It's a fascinating concept, but one for which there isn't scientific support yet – especially not when it comes to minors."
Parris says her research into Gallagher found that the surgeon's career had taken an "interesting trajectory," noting that the surgeon started out serving a very different clientele before rapidly moving states and shifting surgical focus. Gallagher had her beginnings doing male-to-female bottom surgeries in Indianapolis, Indiana.
Gallagher's practice in that state is the subject of multiple extremely negative RealSelf reviews, with former patients reporting disastrous, dangerous results or a lack of post-operative care. One review from December of 2017 has the patient calling their vaginoplasty results a "clusterf*ck of sorrow," and noting that they had returned to illegal drug use in order to cope with the pain and emotional burdenthe botched surgery had left them with. But Parris says there's far more dissatisfied patients than the few reviews floating around on the internet would suggest, and notes that many transgender individuals are also outraged at what Gallagher has done to past patients, or is doing in terms of marketing towards minors.
"I've been in touch with several of her former patients [in Indiana] and they all report severe, adverse results that were not properly handled by Gallagher along with other unethical behavior, such as asking patients to send sensitive medical information to her Gmail account," Parris says, noting that she believes Gallagher may have violated HIPAA regulations, and failed to follow up with patients experiencing severe complications.
In 2020, Gallagher moved to Miami, Florida and began almost exclusively focusing on female-to-male mastectomies and chest masculinization surgeries. She's since amassed a large following on TikTok, where she appears to advertise her surgical offerings in a viral fashion.
"These are much less complicated surgeries that left her with much less exposure," Parris says, continuing: "That is when she commenced her odious marketing scheme that seems targeted to youth on TikTok, which I believe blurs the lines between ads for cosmetic and medically-necessary surgeries."
Parris says her own experience with mental health issues is part of what is driving her to pursue this complaint, with the lawyer noting that she takes the ethics of practitioners very seriously.
"I believe that the marketing and advertising in which Gallagher is engaged now are targeted at women and girls in an unsafe and unhealthy manner. This is a cohort that has historically been least likely to experience gender dysphoria and most likely to detransition, and I believe Gallagher's marketing scheme may be influencing girls and women to pathologize body image issues and jump into irreversible medical processes."
Parris has set up a confidential e-mail through which past patients of Dr. Gallagher can reach out to her directly, noting that she is interested in learning more about their experiences — especially whether they were properly informed about any potential complications associated with their procedures, whether Gallagher minimized the risks during consultation, or even if patients felt rushed, influenced by her social media marketing, or otherwise uncared for.
"Gallagher should be well aware that complaints have been filed against her … She drops petty hints on her social media pages [that she knows], and I'm not above dropping petty hints back," Parris says.
"I am not backing down. Neither are her former patients who are assisting me behind the scenes – she knows that too."
Former patients of Dr. Sidhbh Gallagher interested in speaking with Kendra Parris can reach her at gallagherpatients@protonmail.com. Please note, this is not for the purposes of creating an attorney-client relationship. Reduxx has no association with or access to the emails sent to Parris Law.
---
Reduxx is a newly-launched independent source of pro-woman, pro-child safeguarding news and commentary. We're 100% reader-funded! Support our mission by joining our Patreon, or consider making a one-time donation.
SOURCE : https://reduxx.info/exclusive-florida-lawyer-seeking-information-from-gender-surgeon-patients/